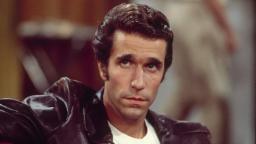 CNN
—

Henry Winkler atribuye haber conseguido el papel de Arthur "The Fonz" Fonzarelli a un acento que inventó en el acto durante su audición para "Happy Days".
Winkler habló con Chris Wallace de CNN sobre su larga carrera en Hollywood y reveló que, como un niño judío de Manhattan, se sorprendió de haber sido elegido a los 27 años como The Fonz, el imperturbable y genial jinete en la comedia de situación "Happy Days" ambientada en Milwaukee. .
Wallace le preguntó a Winkler cómo se transformó en el "epítome de lo genial" en un nuevo episodio de "¿Quién habla con Chris Wallace?"
"Porque me entrené durante muchos, muchos años para ser actor y pude interpretar a alguien. No era alguien que quería ser", respondió Winkler, y agregó: "Y fue muy divertido. Siguen siendo mi familia. Todas las personas que han sobrevivido siguen estando muy, muy unidas. Somos increíblemente amigables".
Winkler dijo que los productores originalmente imaginaron a The Fonz como "un niño italiano más alto".
"Y te conocieron, este pequeño judío de Nueva York, pero todo lo que hice, Chris, todo lo que hice fue cambiar mi voz", recordó Winkler. "Me presento como Henry, y luego, cuando comencé a hacerlo, algo me superó … Y cambié mi voz así y me desató".
Winkler dijo que simplemente lo aceptó y, al hacerlo, se volvió más valiente en la actuación, mientras que en la vida real dijo que todavía se sentía como "un tazón de gelatina que aún no se había coagulado".
Al señalar que TV Guide clasificó a The Fonz como el número cuatro de los 50 mejores personajes en la historia de la televisión hasta el momento, Winkler calificó el reconocimiento de "loco".
Nuevos episodios de "¿Quién habla con Chris Wallace?" estreno los viernes en HBO Max y los domingos en CNN a las 7 p. m. ET.